Setting goals for the sport/hobby that you love can feel a bit strange and intimidating. Here's a few questions you be asking yourself:
Why do I need a goal?
Where on earth do I start and how?
I don't have any tools to do this?
Does it really work?
I know exactly how you feel. I've been there also and didn't have the right tools to make a solid framework. But after taking classes, studying and experimenting, I've found a system that works really well!
Here's what I'll cover:
6 powerful steps that build up your goal nice and easy.
By the end of this course You'll be able to:
Use all the tools to go through a complete goal setting process.
Take faster action and turn your wishes into a goal instead of letting them slip by.
Have more fun while working on a clear vision instead of an abstract thought.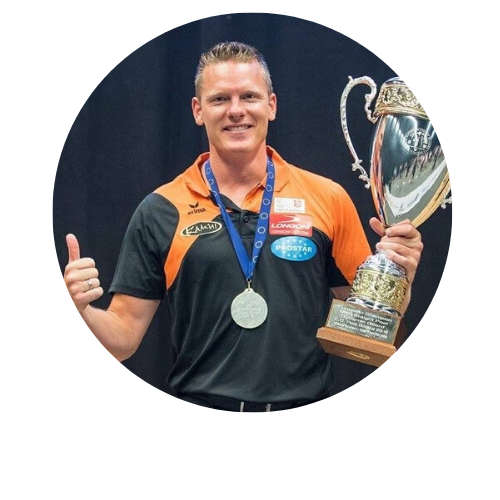 Hi, I'm Niels (the Terminator)
In 1997, as a 20 year old youngster, I took the massive leap into the unknown.
I followed my passion and went all in to become a pro pool player. Two 6 month trips to the USA and many road adventures later, it was time to let the gambling and underground scene go and hit the tournament scene.
20 amazing years later I've competed against all the great players in the world's best events. :)
Along the way, I've hit many competitive walls and throughout all my travels and adventures, I've enrolled in multiple classes, took many one on one personal development sessions with experts and read a ton of books.
My goal is to take all my gained knowledge about the mental game and share that with you so your inner mental giant can also be unleashed! :)
Course Curriculum
Available in days

days after you enroll

Masterful goal setting for competitive pool players